In our new article series we present projects and collaborations that connect to Ulysses network projects or members. The first article introduces reConvert by Lorenzo Colombo and Roberto Maqueda. Do you have a ULYSSES connected project you would like to tell about? Contact the community manager community.ulysses(at)gmail.com!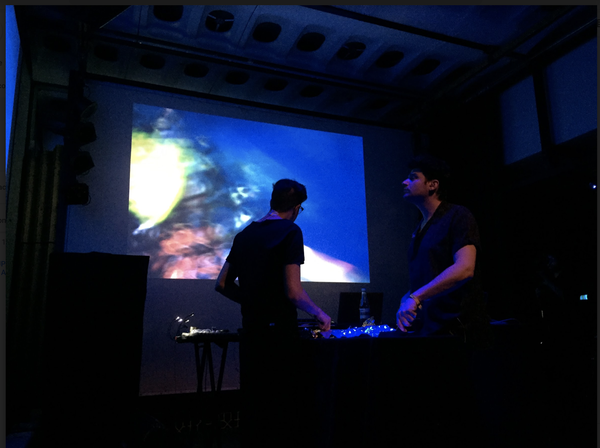 Photo: Marcel Kaufmann - Foundation SUISA
How and why was reConvert born?
"reConvert" was born as a natural extension of the percussion repertoire from the last seventy years, to become a seal of identity that rejects generic definitions and relies on a continuous work between different artists (composers and performers) in which the questioning of academic dogma is in the foreground.
With difficulties in defining the many facets of a percussionist in our time, reConvert raises aesthetic questions without complexes, that do not feed on the natural limits of established definitions of terms. Halfway between percussion and electronics, our projects could well be given many different names, yet none providing a clear and complete picture.
We try constantly to evolve and to question the uses and implications of the resources and techniques that we use and means with which we carry them out. The instruments, objects, interfaces, etc. are in themselves means to reach an artistic aim at the service of creation.
We are Lorenzo Colombo and Roberto Maqueda.

Percussion/electronics... what makes reConvert different?
We like to think about music and art in general as an extension of what we live and experience every day. Technology has become integrated into what we do and so we treat it with enormous creativity; as a tool to expand our horizons and our own artistic language.
We have started to take the initiative in being more involved in the creative process together with composers. Thanks to this, the possibility of commissioning a piece and getting the score once it is completed would be inconceivable. We love being part of the whole process: brain-storming ideas, staging, technical problems, or just controlling a mixer... We like being part of what we present. It takes your energy, but it makes the project really special at the end.
We know we are working with sounds every day and the medium to produce them is no longer important; it could be a traditional percussion instrument, a midi controller, a jack cable or the simple movement of our bodies. How we use different resources (digital or not) is for us one of the most substantial aspects at the time of being developing a new project because somehow all of them are part of our language, the one surrounding us. What we care about is to create a new sonic world that gives us the possibility to feel honest about what we do and that stimulates us enough to research every day.

Could you give some examples of the work that you share with other creators?
In the coming months we will be busy with a lot of new projects. We are working closely with different composers, meeting and sharing ideas together in order to develop a stimulating process of creation in which the barriers between performers and composers become less evident. Working together with composers and sharing ideas in the process of creation has been a skill we've developed through our work in the past. At the beginning of this project we could not face a creative process with the perspective we now have, as a part of the repertoire in our first projects was made up of percussion music written in the last 30 years and we did not always have the chance to work closely with the composer. However, from the very first concert we were lucky enough to be surrounded by companions who somehow helped us on this path and made certain works become cornerstones of reConvert. One example could be our close collaboration with Luciano Azzigotti, who started composing a piece called microbeatLogic for us back in 2013, we are planning to finish the third part of it in 2020.

What's next?
In September we will premiere Lecture about myself by Kaj Duncan David at Kontakte Festival in Berlin. We are just starting a new full-performance-evening together with Andreas Eduardo Frank, with whom we have worked very closely for many years. A good example of Andreas' music is his piece Tabletalk. Furthermore we are heading into one of our most inspiring projects yet, a collaboration with Simon Steen-Andersen in co-production with Tinguely Museum in Basel. After the premier this project will be brought to other festivals.
Reviewing and updating old projects is something we have been working on as well. In 2018 we premiered Amoeba by Fernando Manassero. For us, of all our past projects, Amoeba probably marks the clear point of departure from traditional percussion. We will present this project in September at Eufònic Festival (Catalonia, Spain). Eufònic Festival is mainly for electronics and visual arts and one of our current goals is to reach an audience which is not usually exposed to contemporary music, although the aesthetic proposals may be close at some levels. As well as reaching new audiences it has helped us growing up a lot and expand our language.

How has ULYSSES network project been of help or how could it help you in the future?
We think that ULYSSES network is a great platform for promotion and we would like to take advantage of the many possibilities that it offers. We would like to explore the possibility of bringing reConvert and creators (not just composers) together in many different ways, as well as promoting new projects that have been connected with ULYSSES in their conception.
What has always engaged us as ULYSSES members was the possibility to work and get in contact with the most important institutions for new music. As young performers we have learned a lot from each experience we've had and we are trying to apply them to our daily musical life.

What is your long term aim/challenge?
The state we are currently in was probably not imagined at the beginning of reConvert. Through constant work with other composers/artists and our learning as individuals what we were in the beginning has evolved into what we have come to be. Perhaps the best example of this is our detachment from labels. Also, we were just percussionists, somehow we became also performers and at this moment we are trying to discover our own creative voice. The reConvert project began as a group of new music for percussion; now it exists as a group for new music. Maybe this is due to growing up...
reConvert homepage
reConvert on Facebook
Photo: Eric van Nieuwland - Classical Next 2019