Being a country known for its active contemporary music scene and compact infrastructure, Estonia hosted the prestigious annual contemporary music festival World Music Days on May 2nd to May 10th 2019 initiated by the ISCM.

The Estonian Philharmonic Chamber Choir, ULYSSES Network partner and the flagship of Estonian professional choir singing, participated in the festival with two concerts. The first one was called "Blossomings" and the programme was as follows:

LUKÁŠ BORZÍK (B. 1979, SLOVAKIA) / TEXT: CREDO
"Credo" for mixed choir (2012/2018)
HELENA TULVE (b. 1972, Estonia) / Text: Paul Celan, Hilde Domin
"Nächtliche Gesänge" / "Nocturnal Songs" for choir (2019, premiere)
THOMAS SIMAKU (b. 1958, United Kingdom) / Text: Sappho / Salvatore Quasimodo
"La leggiadra luna" for mixed choir (2017, Estonian premiere)
TOIVO TULEV (b. 1958, Estonia)
"Ek het jou lief" (2019, premiere)
WIM HENDERICKX (b. 1962, Belgium) / Text: Jigme Lingpa, Hildegard von Bingen, Rumi
"Blossomings. Three Prayers for a Better World" for choir and trumpet (2016)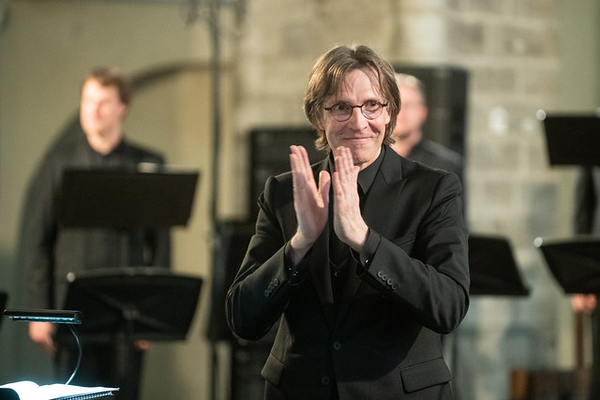 Conductor Kaspars Putnins. Photo: Sven Tupits, World Music Days 2019
The second one was the closing concert of the festival "Concerto per voci e strumenti" together with Tallinn Chamber Orchestra, conductor KASPAR MÄND.
TÍMEA MAŠČÁKOVÁ (b. 1998, Slovakia)
"Nezábudka" / "Forget-me-not" for choir and string orchestra (2018)
TARMO LEPIK (1946–2001, Estonia)
"Hälli maailm" / "Cradle's World" for soprano, alto and mixed choir (1980)
DAVID FENNESSY (b. 1976, Ireland)
"Hirta Rounds" for 16 strings (2015/2016)
RUTA PAIDERE (b. 1977, Latvia)
"Tempera" for string orchestra (2012)
GALINA GRIGORJEVA (b. 1962, Estonia)
"Tsaarinna Jevdokia nunnaks pühitsemise laul" / "Song on the Occasion of Czarina Yevdokia Taking the Veil" for string orchestra (2002)
ESTER MÄGI (b. 1922, Estonia)
"Mõtisklused" / "Meditations" for mixed choir (1978)
LEPO SUMERA (1950–2000, Estonia)
"Concerto per voci e strumenti" for mixed choir and string orchestra (1997).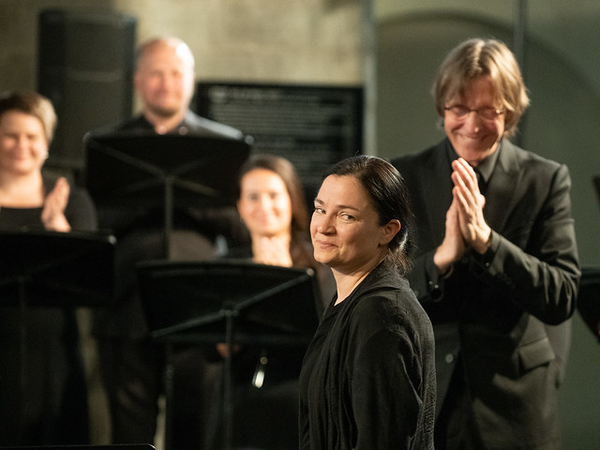 Composer Helena Tulve. Photo: Sven Tupits, World Music Days 2019
The ULYSSES project "Vocals meet electronics" aims to commission new works with electronics for the EPCC. Partner in the project is IRCAM. The first meeting was scheduled for 29th -30th April with the aim of the young composers coming to Tallinn and present their first sketches for the choir to sing and record for further use. Taking into account the above-mentioned content of the World Music Days, where the EPCC had to prepare for two concerts, learn eight new and demanding pieces, including three premieres, it turned out to be a mission impossible to accommodate the recording of three more pieces into our schedules. The composers were welcome to Estonia to attend the choir rehearsals in order to get a better idea of the possibilities of human voice, especially as the rehearsed pieces represented also contemporary style of music.

Adrien Trybucki who is one of the chosen composers by the chief conductor of the EPCC Kaspars Putniņš for this project wrote the following about his days in Tallinn:
"This first meeting in Tallinn was very rewarding for me. Indeed, listening for two days the choir rehearsing a very varied contemporary programme allowed me to really understand their way of working. Their approach to these different musical writings also allowed me to better project myself in the writing of a choral work, with all the specificities required. Discussing this with Kaspars, as well as his own personal experience with composers, was also very interesting for me. At last, these two days in Tallinn were also an opportunity to discover Estonia for the first time and start to soak up its culture! All this sounds very auspicious for the continuation of the project!"

The next step for the composers would be work in Ircam in July which will be followed by a meeting in Tallinn where all the three composers – Sina Fallahzadeh, Adrien Trybucki and Ülo Krigul – and the computer music designer Carlo Laurenzi participate, will take place in Tallinn from 11th to 13th September.
Text by: Reet Grosberg, Estonian Philharmonic Chamber Choir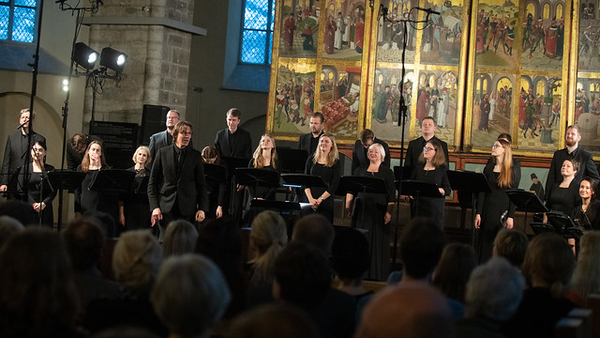 Estonian Philharmonic Chamber Choir. Photo: Sven Tupits, World Music Days 2019