ManiFeste, IRCAM's multidisciplinary festival and academy, is the rendezvous for creation in Paris and places music in disciplines beyond the concert. Theatre, dance, digital arts, visual arts are all brought together in various events held in iconic venues in Paris, among them Le Centre Pompidou, La Maison de la Radio, Le CENTQUATRE-Paris and La Philharmonie de Paris in June. During the festival is also held the Academy that sees between 120 and 140 young composers and performers from all over the world! Every year, the ULYSSES Network sponsors young composers and interprets who follow masterclasses with renowned musicians with the "ULYSSES Journeys" programs. We are focussing this year on two Italian composers, Gerardo Gozzi and Simone Corti, taking part to the Chamber Music and Conducted Ensemble composition workshops, and the Acetone Ensemble who was key to the Fête du Quatuor concerts held at Le Musée de l'Orangerie.
Simone Corti. Photo: Eric de Gélis, IRCAM
Simone Corti studied piano and composition at Milan conservatory and composition at the Music Academy of Santa Cecilia in Rome. After participating to last year's ManiFeste Academy and beginning a piece for conducted ensemble he came back to have it performed by musicians from l'Ensemble intercontemporain. This work called Tubi has been written for flute, clarinet, bass clarinet, horn, trombone, vibraphone, piano, 2 violins, viola, cello and doublebass. With the help of teaching composer Marko Nikodijevic, in charge of the Conducted Ensemble composition workshop, he has put together a coherent and mature work, performed on June 28th by the Ensemble intercontemporain conducted by Julien Leroy.
Simone Corti with Marko Nikodijevic. Photo: Eric de Gélis, IRCAM
Gerardo Gozzi studied at Chigiana and Romanini academies, as well as the Royal College of Music and the Royal Academy of Music in London, where he now resides. His training as a clarinettist and saxophonist granted him a keen interest on wind instrument's tones, that appear like sources of colour in his work. His creation Homo Sapiens, all-too-Sapiens has been written for a trio with bass flute, viola and flugelhorn. His compatriot and teaching composer Stefano Gervasoni was here to guide the composing process for this subtle and precise trio.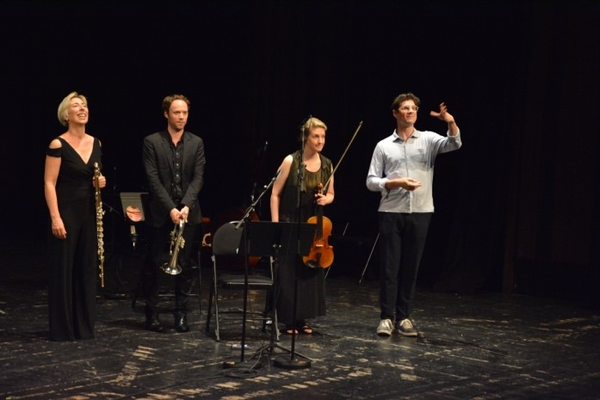 Gerardo Gozzi with performers. Photo: Eric de Gélis, IRCAM
Acetone string quartet took part to the string quartet masterclass, mentored by the Quatuor Béla. Acetone is quite a remarkable quartet as it is actually a quintet in disguise: they specialize in the repertoire using electronics and therefore need a full-time sound director to perform the pieces. The masterclasse's highlight was Acetone's performance of Kaija Saariaho's Nymphea in front of Monet's iconic paintings in Le Musée de l'Orangerie's Salle des Nymphéas.
Acetone preparing. Photo: D. Jacquard-Delcourt, Musée de l'Orangerie
Acetone. Photo: D. Jacquard-Delcourt, Musée de l'Orangerie

Acetone is : Jacobo Hernandez Enriquez, Lola Rubio, violins / Laura Hovestadt, viola / Kyubin Hwang, cello / Maximiliano Estudies, sound director.
APPLICATION CALL FOR MANIFESTE-2020, L'ACADÉMIE

Calls are opening on October 1st, 2019 on
https://www.ulysses-network.eu/competitions/ and www.ircam.fr