Summer academy courses have been part of the Time of Music – Viitasaari contemporary music festival since its very beginning in 1982. Many years now, the courses have also been part of the Ulysses activities. This year two of the three courses – composer course and chamber music course – invited also young professionals from ULYSSES Network on their ULYSSES Journeys to take part in the courses, concerts and the festival.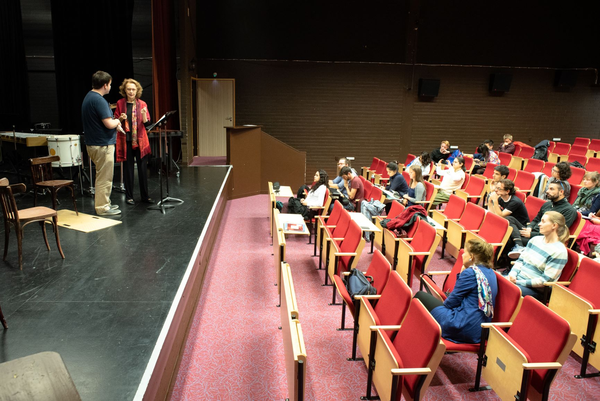 Kaija Saariaho. Photo: Sami Sorasalmi

The composer course was tutored by a prominent Finnish composer Kaija Saariaho. Her reputation is of course world-wide and it was not surprise that the composer course gained an interest like never before. Applications from almost 100 applicants were received of which only 10 could be accepted to take part in the course. During the week, Kaija gave common lectures but also individual lessons for young composers tackling with their own pieces. The students were highly satisfied with Kaija's insights. As one of the students put it: "I manage to look calm here but in fact I am erupting with so much excitement. She seems simultaneously ethereal and human which is very much reflected in the way she writes. She speaks deliberately yet sparsely but with potency."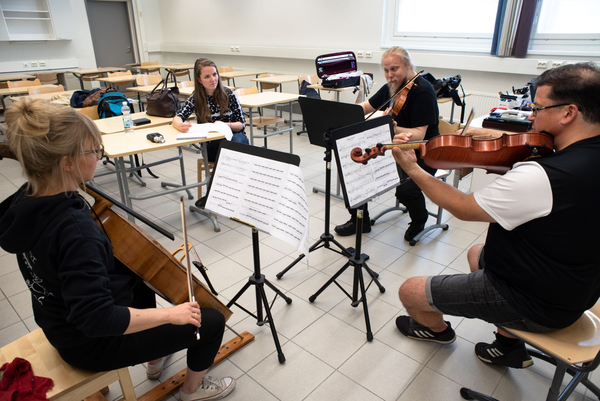 Composer Cecilia Damström working on her piece with players from Uusinta ensemble. Photo: Sami Sorasalmi

Seven of the composer course students had their pieces premiered by Uusinta Ensemble in the end of the week, one of them Leonardo Marino, doing his ULYSSES journeys. His piece Il settimo girone for piano and percussion finished the course concert and got well-awarded applause.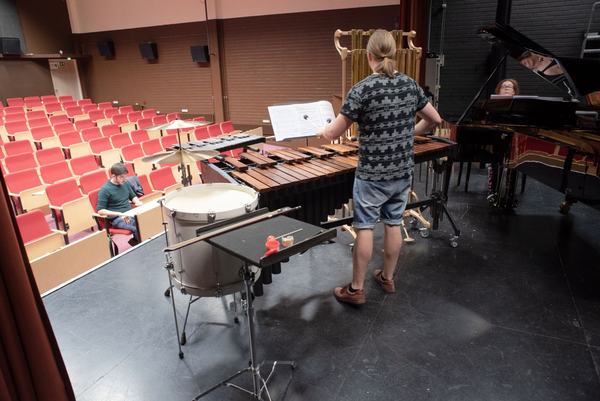 Composer Leonardo Marino working on his piece with performers. Photo: Sami Sorasalmi
Other students of the composer course:
• Jaime Belmonte
• Yu-Chun Chien
• Cecilia Damström
• Jinwook Jung
• Polina Korobkova
• Gísli Magnússon
• Jug Marković
• Arnau Brichs
• Katharina Roth

Concert programme of the Final Concert of the Composer Course, on Sun 7th July 2019 at Paris Hall, Viitasaari:
• Arnau Brichs Ponce (2000–): L'Escuma (2019) for flute, viola and harp
• Yu-Chun Chien (1987–): Being double (2019) for trombone and percussion
• Jug Marković (1987–): wash me blue (2019) for clarinet and cello
• Gísli Magnússon (1988–): Stuðlagil (2019) for bass clarinet, trumpet and piano
• Cecilia Damström (1988–): Nisus (2019) for violin, viola and cello
• Katharina Roth (1990–): Mark (2019) for flute, clarinet and harp
• Leonardo Marino (1992–): Il settimo girone (2019) for piano and percussion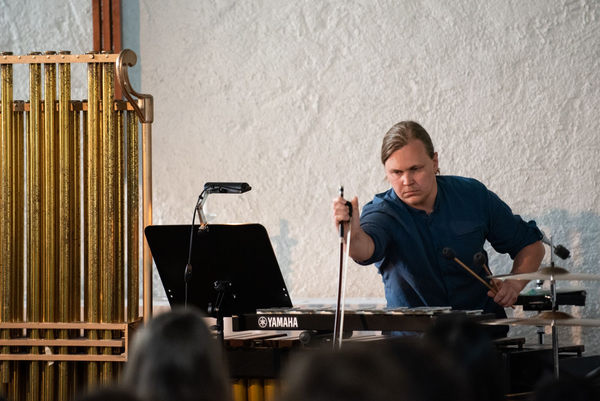 Petteri Kippo playing Leonardo Marino's piece at the final concert. Photo: Sami Sorasalmi
The chamber music course was tutored by world-renowned flutist Camilla Hoitenga. During the week, the students had discussions, private and chamber music lessons and individual tutoring. Part of the lessons were common with the composer course and Kaija Saariaho. Twelve students from all over the world took part in the course. Many of them are currently living outside their home countries and thus the atmosphere was very international indeed. Most of the students were quite anticipated flute players but also a percussionist, a Kantele player and an Italian ensemble Collettivo_21 joined the group. In addition, cellist Andrew Power and pianist Vitaliy Kyianytsia on their ULYSSES journeys took part in the course.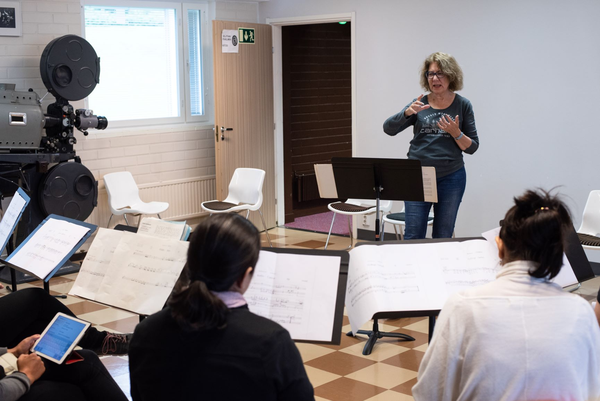 Camilla Hoitenga. Photo: Sami Sorasalmi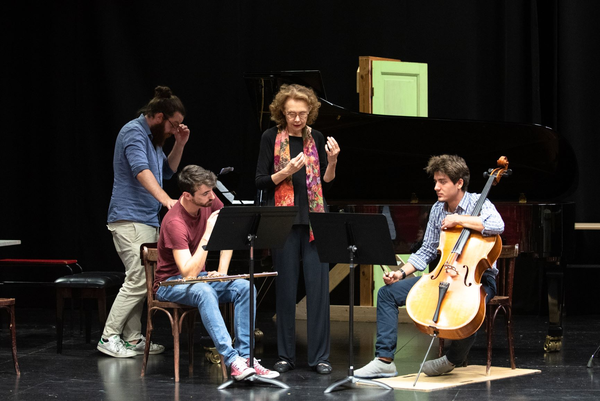 Kaija Saariaho working with Collettivo_21. Photo: Sami Sorasalmi

Being so big in numbers, the students gave two concerts during the festival week. Some amazing solos and duets were heard in both concerts. It all came down to a common performance of Karlheinz Stockhausen's Tierkreis with students' own interpretations – and as a funny surprise for all with a jazzy finale. ULYSSES Journey participant Andrew Power played Elliot Carter's Figment (1994), Kaija Saariaho's Mirrors (1997) with flutist Eva Stavrou and Saariaho's Serenata I (2008) with pianist Vitaliy Kyianytsia and percussionist Janne Savela. Vitaliy Kyianytsia played Pascal Dusapin's Etudes 2 and 6 (1999-2001), Kaija Saariaho's Attente (2002) with Silvina Suárez, voice and Saariaho's Serenata I.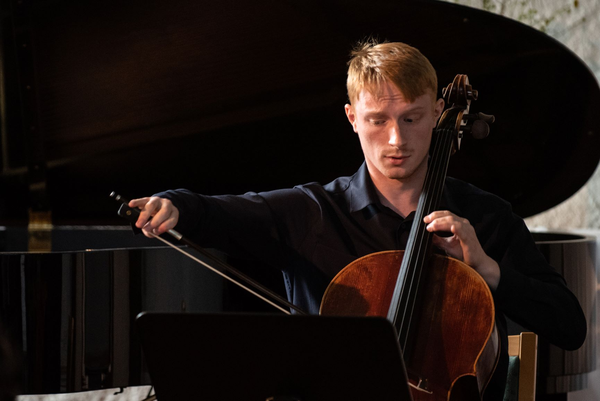 Andrew Power. Photo: Sami Sorasalmi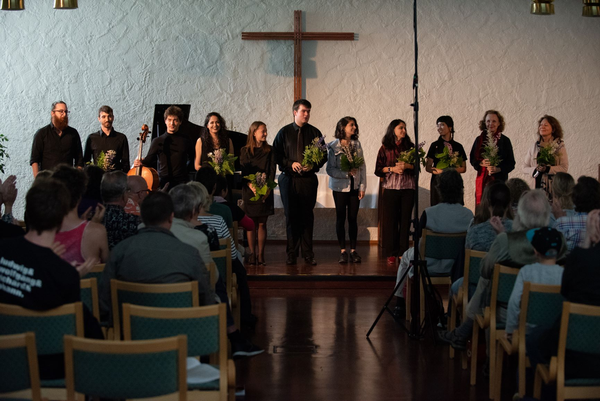 Chamber course final concert. Photo: Sami Sorasalmi
As usual in Finnish summer, all days ended with a night sauna in a bright lakescape and the whole week with a grill party. In 2020 the Summer Academy will again take place in the beginning of July. The courses, dates and other details will be published by the end of the year.