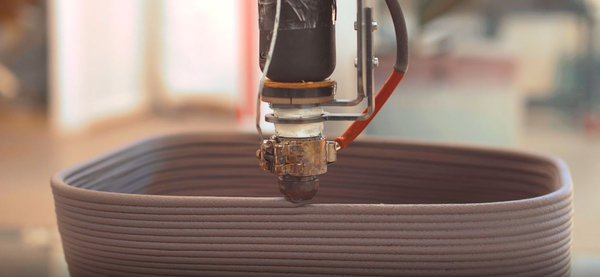 Print your city. Photo and project by The New Raw
STARTS (Science, Technology, and the ARTS) is an initiative funded by the European Union's Horizon 2020 program, and coordinated by IRCAM. STARTS encourages collaborations between science, tech companies, the creative sectors and artists as a means to foster the development of human oriented technologies. The project uses four activities in realizing the goals of the project: an annual prize, residencies, Lighthouse Pilot projects and academies.
The STARTS Residencies project promotes and supports innovation processes involving artists who make original contributions to technology-based projects. A grant (of up to €30,000) is awarded to the artist as a contribution towards her/his participation in and expenses arising from the program. A producer can also provide additional support to the residency. The production of the artwork is also part of a co-creation process with the tech team. A total budget of €900k has been allocated for the artistic grants, supporting the implementation of 45 residencies between 2017 and 2020 on an as yet unprecedented scale.
The program's promotion and selection have been organized into 3 calls which took place between 2017 and 2019, each one divided into a call for projects willing to host artists, a call for producers ready to support them, and then a call for artists who were proposed to select one tech project among those available and to draft a residency proposal. Artists of any nationality and artistic field were welcome. The artistic applications were first reviewed by their tech projects and then finally selected by a high-level international jury.
Read more about the STARTS project here.
In this article we would like to present three artists who are participating in different STARTS residencies and are also members of the ULYSSES platform. The texts are based on interviews with Reiko Yamada and Aaron Einbond and a project description by Rafał Zapała.


Beyond Absolute, artist Reiko Yamada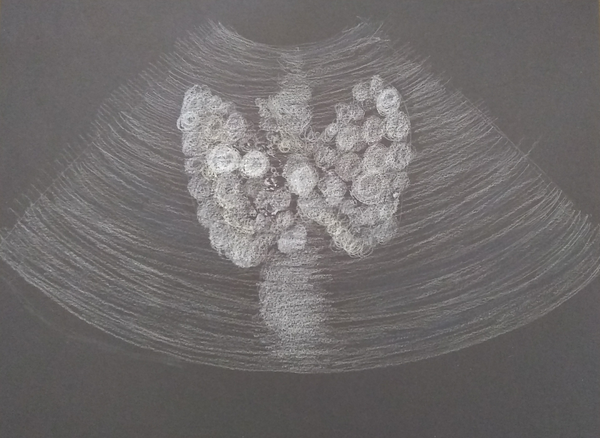 Thyroid. Drawing by Reiko Yamada.

1. Shortly, what is the aim of the project?
Explore and stimulate the communication between thyroid patients and their physicians using the LUCA device.

2. What are your own goals / challenges as an artist in this particular project?
Explore and stimulate the communication between thyroid patients and their physicians using the LUCA device!

3. Do you consider yourself and your art as "a driver of technological innovation" in the project?
Technological innovation is not a linear process. My role is to push it sideways, in directions it may not have taken it otherwise, and most importantly bring a self-reflective element that is often lacking in the process of technological innovation.

4. What have been the main challenges, if there are any?
Communicating across disciplines is extraordinarily difficult--both the scientist and myself have spent decades training ourselves in our respective fields, so it is hard to convey the nuances of what we do to each other. Beyond the specific methodologies on either side of that divide, differences in the culture that's specific to each discipline as well as the institutional context in which the interactions take place, they often create unexpected obstacles. We overcome them, but that's a lot of work.

5. Do you think that the collaboration between music artists and technology companies or projects is or will be important in the future for the development of music as an art form and the work music artists do?
My work is fed by constantly discovering--and being inspired by--new worlds, and the research of the scientific team I'm collaborating with on this project is exactly that, a new world to me. The fact that their work has practical applications (improving the diagnosis of thyroid cancer), however, gives this particular project a unique importance. Art can easily live and thrive without collaboration with scientists, but that kind of collaboration does have the potential to feed the work of artists.

Read more about Reiko Yamada and her project here.

See the STARTS pages of the project here.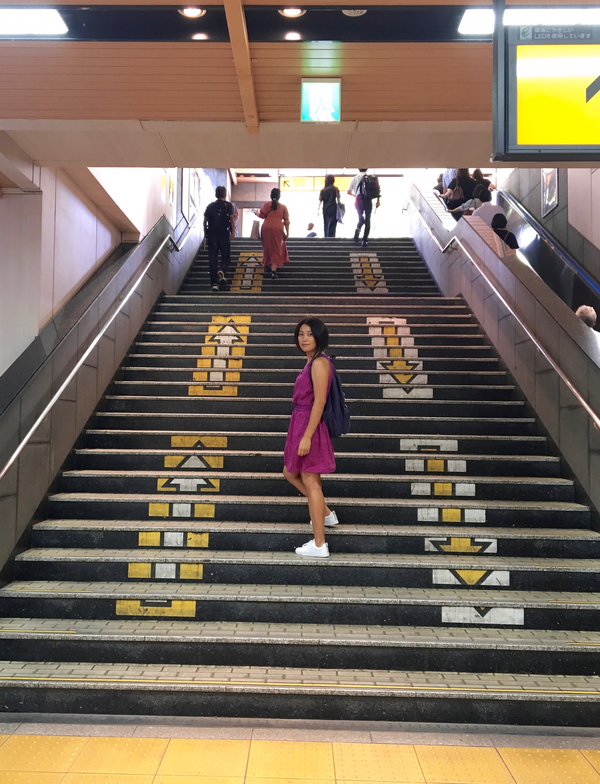 Reiko Yamada


Cosmologies of the Concert Grand Piano, Artist Aaron Einbond
Cosmologies is a project to delve into the inner life of the concert grand piano and situate the listener in a virtual space flickering with its real and imaginary sounds. Artificial intelligence research is ubiquitous, yet often ignores the spatial presence of the live instrument and performer. In this project, I propose to use machine learning to decipher the intricate interdependencies of timbre and space that bring an instrument to life. With OM7/om-spat the project will interrogate the musical microcosm of the piano interior as it is exploded out to the space of the concert hall surrounding the listener.

While I have worked on projects with music technology throughout my artistic career, this project will make more complex demands than before on computer programs, algorithms, acoustical science and technical thinking. This requires collaboration to produce a project that is broader than I could conceive as a composer alone. Working with Jean Bresson on the technical project OM7/om-spat, as well as collaborators Diemo Schwarz and Thibaut Carpentier, I hope will provide this opportunity to conceive a sonic performance situation beyond what I could imagine alone.

This project, as with all my compositional work, could be viewed as a "driver of technological innovation", but it could equally be seen the other way around: in both cases, novel research (both scientific and artistic) drives me to collaborate with top researchers in their fields to produce collective projects that challenge all our creative assumptions. This could include interactions with computer music developers like my collaborators on this project Jean Bresson, Diemo Schwarz, and Thibaut Carpentier. It could also describe exchanges with instrumentalists whose experimentation with extended playing techniques helps to push their instruments' capabilities as well as my sonic imagination. In each case, a technology (computer software, an acoustic instrument) is both a driver and is driven toward innovation.
Music and technological collaboration is and will continue to be important for artistic work. However, this does not implicate only private-sector technology companies: there is also an essential role for basic research in the arts and technology funded publicly through universities and research institutions like Ircam. Publicly funded arts institutions like music festivals and cultural centers are also invaluable supporters of artistic exploration. Although contributions from commercial technology to artistic work are welcome, profitability should never become a measure of artistic value, and basic research must continue to rely on public funding to support risky ideas that are not immediately profitable, nor may ever be.

Read more about Aaron Einbond here.

See the STARTS pages of the project here and here.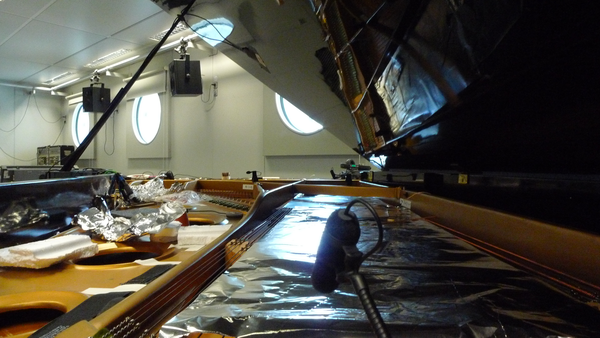 Cosmologies of the Concert Grand Piano, Artist Aaron Einbond
Sensorium Audio Theatre, artist Rafał Zapała

My ambition is to go beyond the solely educational or artistic areas; it is based on integrating social and artistic ideas, that I have been working on for several years. The concept grew in shared conversations with PSNC researchers, since we both reside in Poznań, Poland, and the PSNC laboratories are located in the vicinity of The Ignacy Jan Paderewski Academy of Music in Poznań, where I work as associate professor.

New technological reality and new habits, (domination of visual culture, multi-tasking, mixing of "real" and "virtual" reality, etc.) cause "civilization disease" of problems with attention and focusing for the generation which grew in those new conditions. We observe these problems in our educational work; they also come under scrutiny at FutureLab PSNC. The goal is to design a new tool to help young people control their concentration and realize the continuity between the mind and emotions.

"Sensorium" is an intimate, "anti-mass", one-person experience. It will essentially consist transposition of dynamics of visitor's emotional reactions (by means of biofeedback technology in the tradition of Alvin Lucier's artworks) upon musical structures in a direct "live" experience. The goal is to create an "instrument" (Concert Machine) which enables hearing one's psychophysical reactions, experience (through organised sound) their variability, as well as comprehend the possibilities of exertion to take control over them. "Sensorium" is not an artwork to be exhibited as a concept; it is rather a next-generation space, encompassing new reality. "Sensorium" is intended to operate as a new kind of musical experience available in urban space. It is meant to operate permanently, with changeable artistic programme, though it has a potential to be used in various scopes of music compositions.
See the STARTS pages of the project here.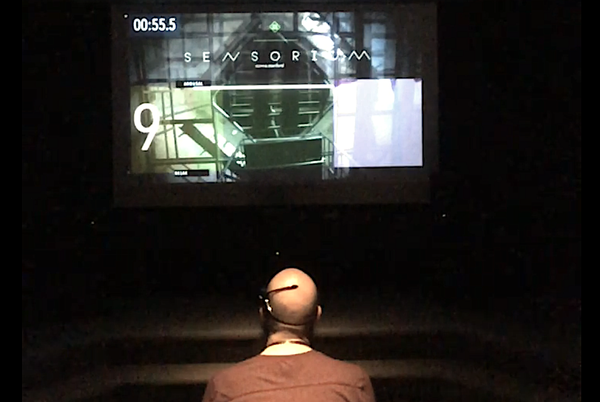 Sensorium Audio Theatre