Following the try-outs in April and further rehearsals this summer in Frankfurt, we reconvened in Frankfurt on September 4 for the final rehearsals before the results of the work were presented at the Gaudeamus Muziekweek in Utrecht on September 8, featuring the world premieres of the new pieces.
Over the other stops of the tour 2018 the ULYSSES Ensemble had grown – the process of ensemble-building the ULYSSES Ensemble had undergone by that time was obvious! The rehearsals were very efficient and definitely at high level!
The programme was finalised as follows:
- a su sinuoso paso for big ensemble (2018) (13')
JAVIER QUISLANT (*1984)
performed by IEMA-Ensemble 2017/18 and ULYSSES Ensemble
- Dépaysement (2018) (12')
YONGBOM LEE (*1987)
performed by IEMA-Ensemble 2017/18
- 5 Things That Really Matter in 2018 (2018) (11')
MIKOŁAJ LASKOWSKI (*1988)
performed by the ULYSSES Ensemble
- Vaporised Tivoli (2010) (9')
ANDERS HILLBORG (*1954)
performed by IEMA-Ensemble 2017/18 and the ULYSSES Ensemble

Lucas Vis conducted the pieces by Laskowski and Hillborg, Lautaro Mura Fuentealba the pieces by Lee and Quislant.
Two conductors at work: Lucas Vis and Lautaro Mura Fuentealba. © Barbara Fahle
The piece by Laskowski was performed by the ULYSSES Ensemble alone and requested scenic actions like freezing moments while playing/performing.
"I really like to work in this more theatrical, performative way. I really like when things are happening during the rehearsals. I believe in this process of experimentation and human interaction in this process."
- Mikolaj Laskowski, composer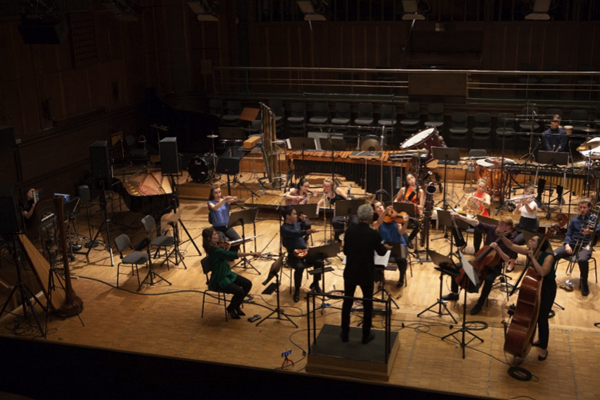 © Barbara Fahle
On September 7, 2018, a big group of over 30 people travelled by train to Utrecht, facing major problems with the Deutsche Bahn – but finally arrived!
© IEMA
Under perfect conditions at Tivoli Vredenburg and thanks to the highly professional staff auf Gaudeamus Muziekweek the concert took place September 8.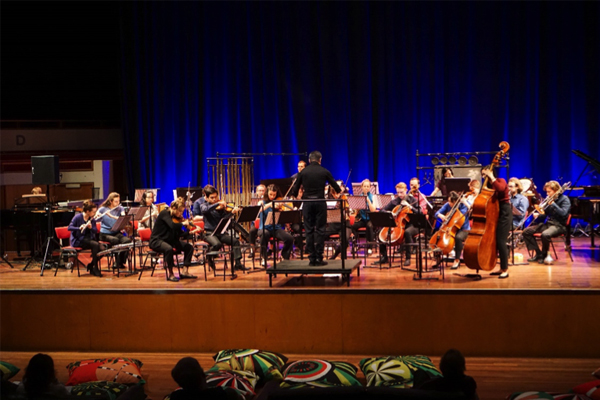 IEMA-Ensemble and the ULYSSES Ensemble performing the piece by Quislant © IEMA
The rerun concert took place September 10 at the Hochschule für Musik und Darstellende Kunst Frankfurt am Main.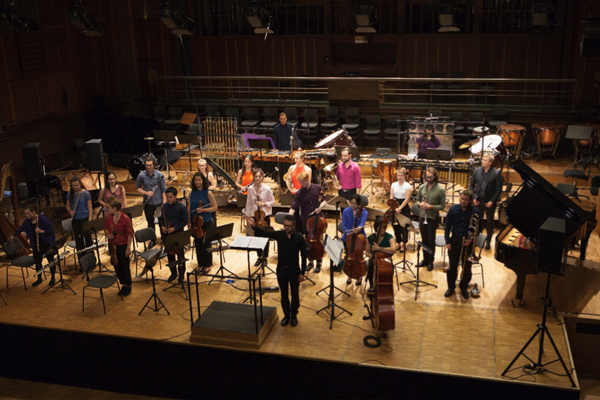 © Barbara Fahle
All participants considered this project as a very valuable experience artistic wise and appreciated the opportunity to perform in this professional and international context.
"The ULYSSES Ensemble changed from this specific project working with the musicians from the IEMA, seeing how they work as an ensemble, understanding their style and their way; how they communicate musically, versus how we communicate musically and learning to put our styles together."
- Gwen Reed, double bass, ULYSSES Ensemble
"I think there are not many differences between the IEMA-Ensemble and the ULYSSES Ensemble, because we have the same interests. We are all young musicians and we are all here to play contemporary music, and we are very open-minded."
- Gabriel Trottier, horn, IEMA-Ensemble