June 20 - July 2 in Paris
Discoveries, discussions, and exchanges
ManiFeste, the IRCAM multidisciplinary festival and academy, is a gathering of creative artists in Paris, combining music with other disciplines. This year, the IRCAM team wished to recapture the essence of the academy's spirit: emulation generated by the collective. To celebrate this reunion, the academy's team concocted a program that gave special attention to the composers working in the ManiFeste festival, such as Philippe Manoury, Jesper Nordin, Pierre Jodlowski, Claudia Jane Scroccaro, with interventions from the Ensemble Intercontemporain musicians, a workshop on composition for children's voices in partnership with the Centre de Musique Baroque de Versailles, a presentation of IRCAM's Cursus by young composer Aida Shirazi who is currently attending the Cursus.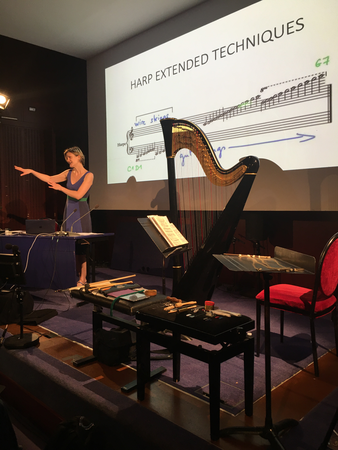 Harpist from the Ensemble intercontemporain, Valeria Kafelnikov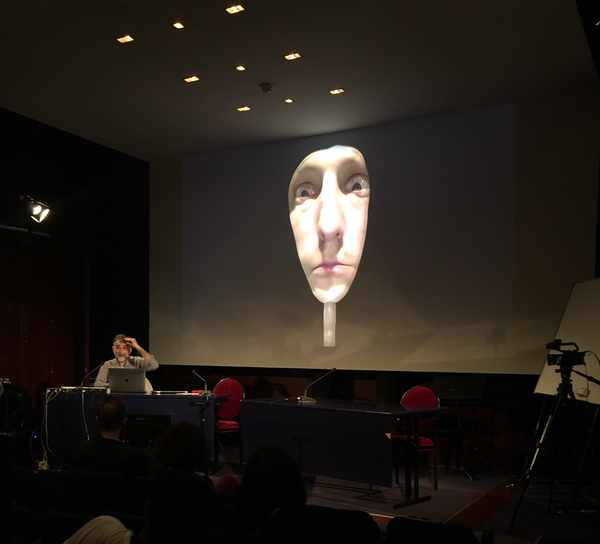 Composer Pierre Jodlowski lecture about his multidisciplinary performance Alan T.
The ULYSSES network endorsed many activities and participants of our academy:

# ULYSSES Ensemble & ULYSSES commission
Each year the ULYSSES network publishes a call to select international young musicians who come together to form the ULYSSES Ensemble. The ensemble tours for one season through Europe and benefits from several work-sessions in different places, including rehearsals and a series of public concerts with world-class conductors while presenting a different repertoire at each stop.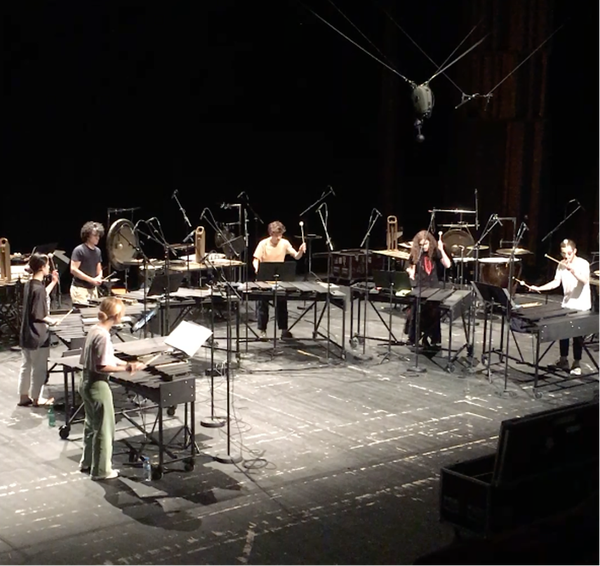 2022 marks the first time that the ULYSSES Ensemble is an ensemble entirely dedicated to percussion, made up of 5 percussionists, accompanied by a percussionist from the Percussions de Strasbourg, Rémi Schwarz, who lead and guides the young performers throughout their journey : Strasbourg and Paris in ManiFeste Academy in Paris, then Time of Music Festival in Viitasaari (Finland) to the Gaudeamus Festival in Utrecht (Nederland), ending with the Warsaw Autumn Festival (Poland).
In ManiFeste, the ULYSSES ensemble premiered new work Talking Metals, Talking Drums by composer Mioko Yokoyama, commissioned by Time of Music, Gaudeamus, Warsaw Autumn.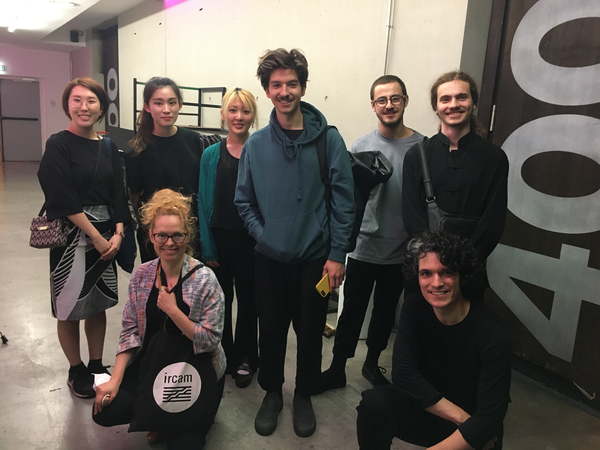 Composer Mioko Yokoyama, young percussionists SeongYeon Kong, Akane Tominaga, Mikołaj Rytowski, Paulo Amendoeira, Théo Guimbard, academy coordinator Natacha Moënne-Loccoz, tutor from Percussions de Strasbourg Rémi Schwarz

Watch ULYSSES Ensemble 2022 Concert in ManiFeste-2022
https://www.youtube.com/watch?v=hrCcRkphQsU
# Collaboratory
Providing new perspectives on creative collaboration, questioning the authorship and "signature" of a work, and evolving in a situation where a collective of artists shares the responsibility for the development of an experience, a new work, or device.
During one week in Paris, every morning, Bernhard Lang presented the subject of the day. Afternoons were dedicated to improv sessions held in small groups by the participants, based on concepts and strategies studied. The session was recorded and then analyzed together before continuing with reflections that will lead to more work on improvisation/rewriting.
The workshop concluded with a concert open to the public during ManiFeste in CENTQUATRE-Paris.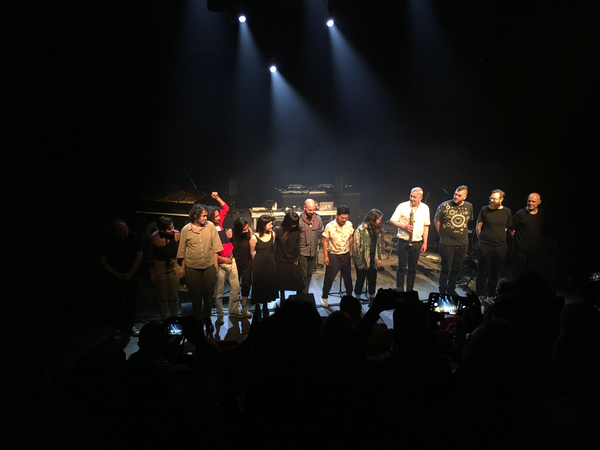 10 young improvisers: Johan Blixt, Ana Luisa Diaz de Cossio, Jenna Flohr, Jack Herscowitz, Volodia Lambert, Kalun Leung, Li-Chin Li, Samuel Long, Josefa Silva Ibarra, Esther Wu, along with guest artists Dieb13, Ropert Lepenik, Dimitri Polisoidis, Gerald Preinfalk
Watch Collaboratory Paris Concert in ManiFeste-2022
https://www.youtube.com/watch?v=qMed5Dmau_k
# ULYSSES Journeys
Supporting careers of young talents on their journey to becoming mature professionals. By offering concrete working experiences – workshops and residencies with relevant tutors and always in cooperation with other young or confirmed artists – in different production contexts, among which the young artists can define their own journey. By putting them on the path leading to professional commissions with European-wide tour dates.
In the academy ManiFeste, we had the pleasure to welcome Itizar Viloria in our Mixed Music Workshop lead by IRCAM computer music designers Jean Lochard and Simone Conforti.
Esther Wu in the Collaboratory Paris Workshop led by Austrian composer Bernhard Lang.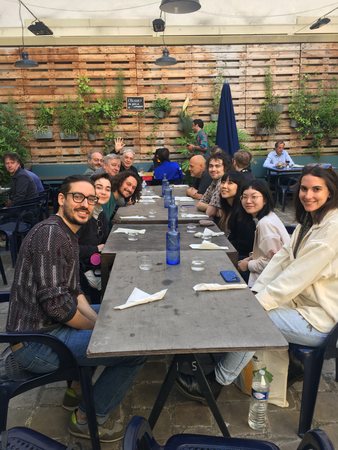 Maria Vincenza Cabizza and Pablo Andoni Olabarría in our Conducted Composition Workshop led by guest composer Misato Mochizuki along with soloists from the Ensemble intercontemporain conducted by dedicated Jean Deroyer.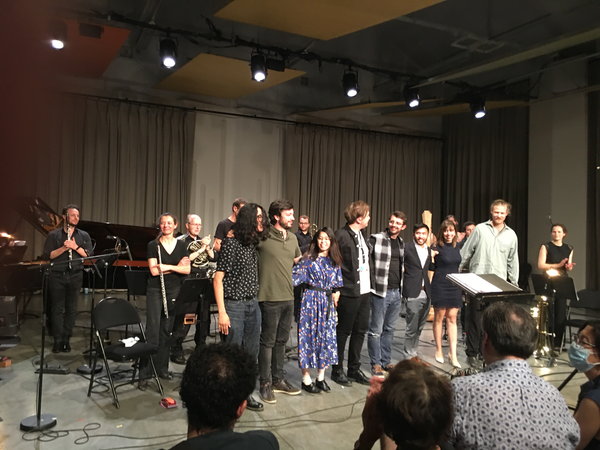 Do not miss our next application calls for ManiFeste-2023, the academy:
ÉLAN award 2023 International Composition Competition for Orchestra call is already open
https://ulysses-network.eu/competitions/elan-award-2023/
Other calls will open in October 2022
Text & Photos by Natacha Moënne-Loccoz